Happy Customers
Go Hand Stamped This Mother's Day With Tracy Tayan Designs #Giveaway
Mother's Day is a day for all of us to show those special women in our lives just how much they mean to us. We can do this in several ways whether it's be cooking them a nice meal, getting them some pretty flowers, or even having them a hand stamped necklace designed from Tracy Tayan Designs.
Tracy was raised in Hawaii and has a love for art, she has lived in 4different states and has several degrees including a master's in education. Tracy is a former art teacher who followed her dreams and left the classroom. Tracy loves teaching, however, her passion for jewelry has lead her to become a full time jewelry designer and business owner.
I recently had the pleasure of working with Tracy and checking out her work first hand. I picked the I Love You To the Moon and Back Necklace, this necklace is sterling silver and half moon is hand stamped, it also came with a birthstone charm and a hand stamped initial charm.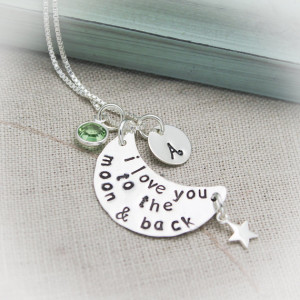 When I was browsing through her Etsy store, this particular necklace stuck out. So I had it done with my daughter's birthstone and her initial after all if it wasn't for her I wouldn't be a mom. I wanted something special to give to my daughter.
The package arrived extremely fast, and when I opened it the packaging was amazing. I could tell from the packaging that Tracy has a passion for art. Don't believe me? Check out the packaging…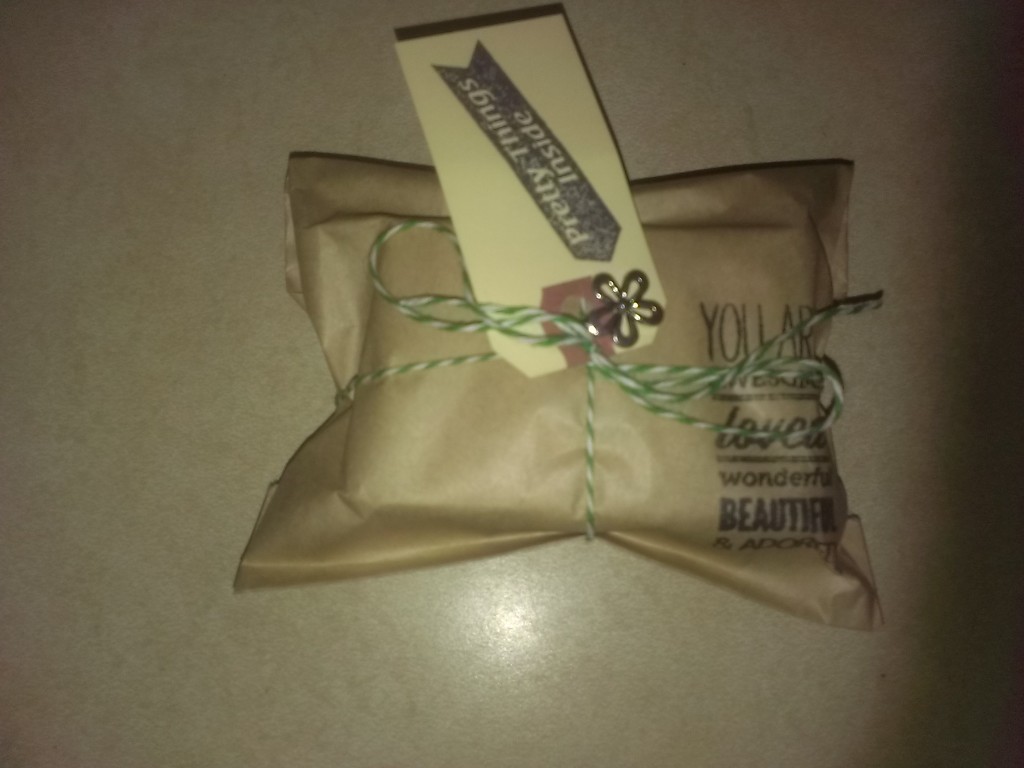 I love how she has packaged the box with the necklace, I also love how she has on the packaging "You are awesome loved wonderful beautiful & adored". The packaging is amazing, and I almost didn't want to open it. However, I knew if I wanted to see the amazing necklace I was going to have to untie the package.
Once I did and pulled out the box, I was in awe with how she had prepared the box.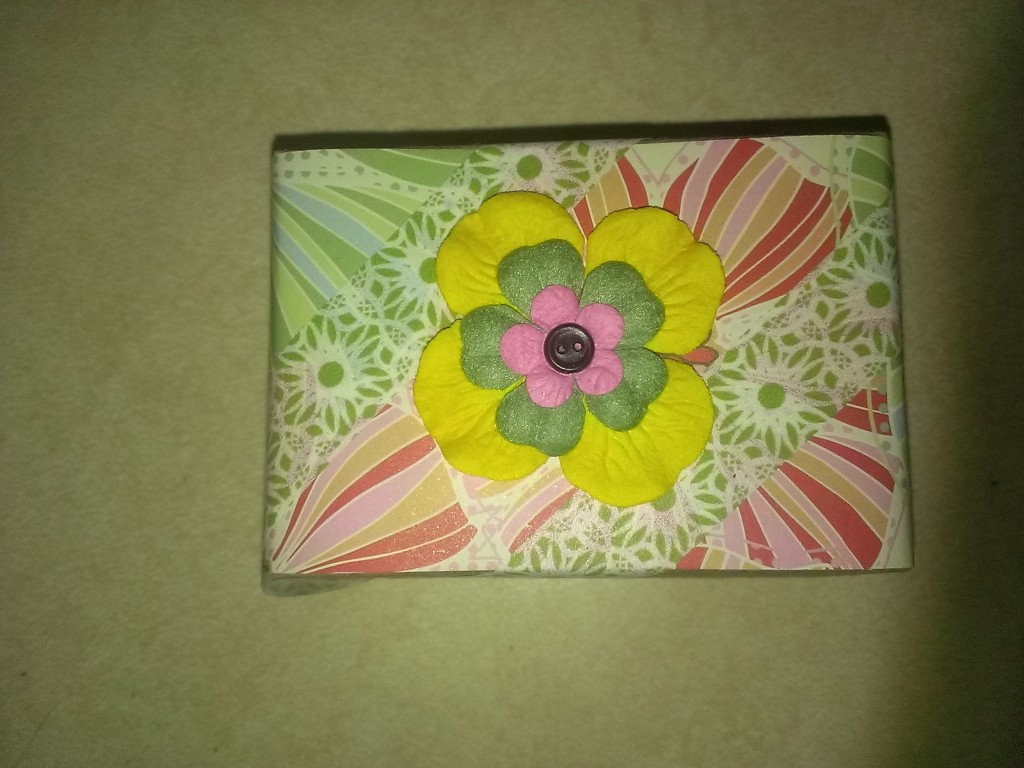 Super adorable, I could see right away Tracy had a talent for art. Once I got to the necklace I new it was perfect.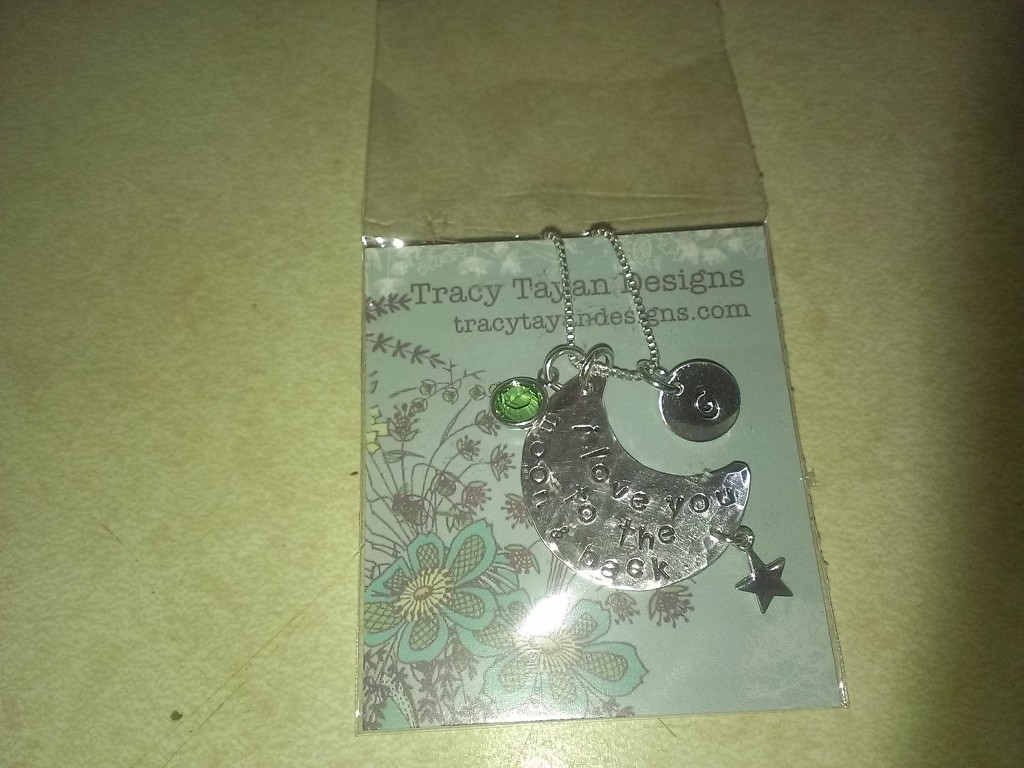 Inside the package was also instructions on how to care for our new necklace. Often times people will get jewelry and not realize they have to clean it.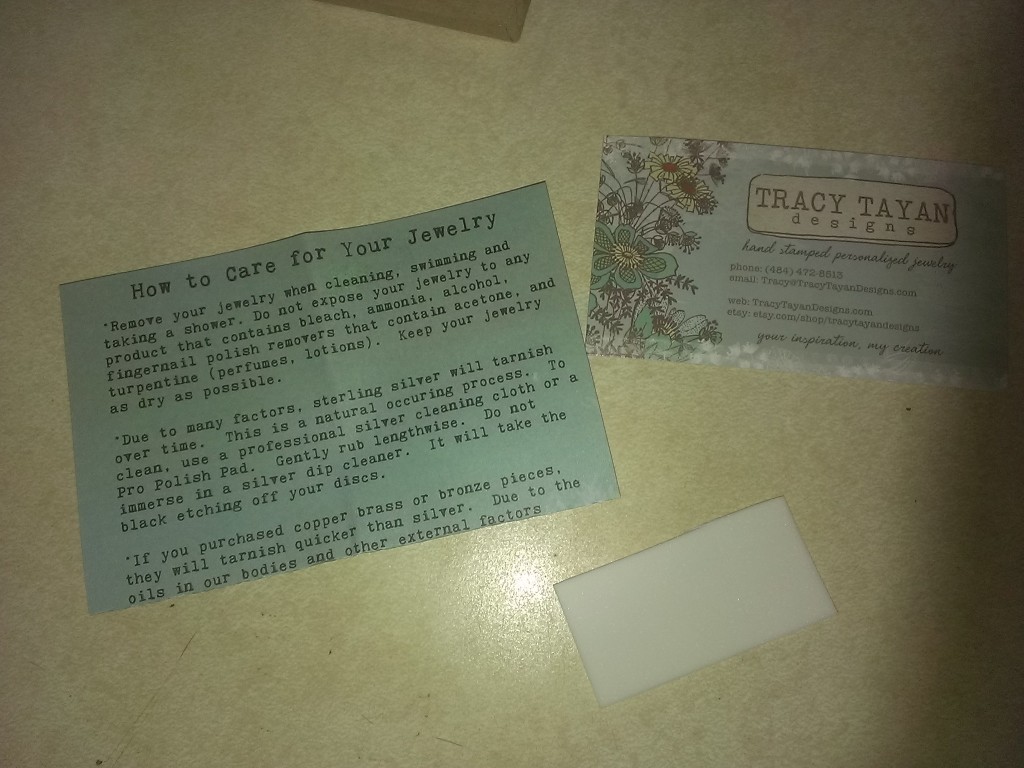 Tracy Tayan Designs has several different unique hand stamped customizable products that would be wonderful gifts this Mother's Day. The prices of her product varies depending on what you're looking for, but I have seen her work first hand and it's gorgeous. You can check her work out at her site here or her Etsy store here.
www.weddingbee.com
Mrs. Cupcake wrote about my jewelry:

http://www.weddingbee.com/2009/01/14/custom-wedding-jewelry/
Check out what our customers are saying:
Check out my all my reviews all Etsy here:
Here is a sampling:
*This is the 3rd time I have ordered from TracyTayanDesigns and I just love this shop! Amazing quality and beautiful work! This is even more perfect in person! My father in law always gives all the grandkids special coins for their birthday,holidays etc. So I thought this was the perfect Christmas gift. Fast Delivery too!!
*This seller is fabulous. The package arrived on time and in great condition. The box that holds the cuff links is beautiful and unique and the finish on the cuff links is wonderful. I am very pleased!
*Came out exactly like the photos, look great! She also has wonderful customer service it was such an easy, great experience to work with her especially during the holiday season.
Defiantly will be looking into other products she sells for future gifts!
*Hi Tracy! I wanted to let you know how much my mil absolutely loved the necklace you made! She said "this necklace is the nicest piece of jewelry I have ever received".
Thank you so much for making the most special gift of a lifetime!
*Received our order today and was more than surprised. What a beautiful piece! The workmanship is amazing, the quality unbelievable . Have to say that of all the jewelry we have ordered online it is by far the best! Wonderful customer service. So glad we found your company. Looking forward purchasing from you again in the future.
*OMG!! The necklace was more beautiful in person AND the packaging was way adorable!! I was sad to open it but I HAD to see before I gave it as a present!! Thank you, Tracy!!
*Beautiful!!! Very very happy!!
*Lovely, dainty necklace and charms. So happy with my purchase - thanks so much!
*Beautifully made. My grandmother loved it!
*These are very well made. Small and delicate Thank you
*The necklaces are beautiful!!! Its a gift for my daughter and I am sure she is going to just love them. Thank you. Very quick response on receiving order and quick shipping information. I will order again.
*FANTASTIC! Exactly as described and very quick shipping. Thank you!
*Beautiful necklace! I've received several compliments from coworkers! The delivery was prompt as well.
*Beautiful necklace...and so great to work with to get the perfect piece for my grandmother! Thank you
*My aunt loves this necklace!
*For a necklace that is fairly simple and could have easily been thrown together, it wasn't at all. All of the jump rings were perfectly closed and neat and the silver was a nice quality and for a much lower price you would find in stores. She even enclosed a free, cute bottlecap keychain and instructions on how to properly clean and store your silver. Good communication and fast shipping.
*Gorgeous!! So simply yet exquisitely classic! My Aunt will love it! Thank you!
*I LOVE this necklace. It is simple yet elegant. It can be worn with anything. It is my favorite piece of jewelry!!! Thank you, Tracy!